ALAN ADI İLE YAPILAN MARKA TESCİL BAŞVURULARI
Gelişen dünya ile birlikte birçok şirket internet üzerinden faaliyetlerini sürdürmekte ve isimlerini dünyaya tanıtmaktadırlar. Ticari değerlerini korumak için birçok firma alan adı (domain name) almakta ve marka tescilinde bulunmaktadır. Bu yazımızda alan adı (domain name) içeren markaların tescili anlatılacaktır.
1)Marka Nedir?
Marka en genel tanımıyla bir işletmenin mal ve hizmetlerini, başka bir işletmenin mal ve hizmetlerinden ayırmayı sağlayan işarettir. İşletme adından farklı olarak markanın tescil edilme zorunluluğu bulunmamaktadır. Fakat gelişen dünya ve buna bağlı olarak ticaret kapsamında insanlar sunmuş oldukları hizmetleri markalaştırarak koruma altına almaktadır. Marka hakkı gayri maddi malvarlıkları arasında sayılmakta ve sınai haklar grubunda yer almaktadır. Söz konusu sınai hak başvuru tarihinden itibaren 10 yıllık koruma sağlamaktadır. Bu sebeple marka sahibi tarafından onar yıllık dönemler halinde yenilenme talebinde bulunulması gerekmektedir.
2)Marka Tescili Nasıl Yapılmaktadır?
Marka tescili bu amaçla Türk Patent Enstitüsüne yapılan başvuru üzerine yapılmaktadır. Marka tescil başvurusu elden yapılabildiği gibi elektronik ortamda da yapılabilmektedir.
3)Alan Adı Nedir?
Domain name yani alan adı web sitesinin fiziksel adresinin karşılığı anlamına gelmektedir. Alan adı 5809 sayılı Elektronik Haberleşme Kanununda ise "internet üzerinde bulunan, bilgisayar veya internet sitelerinin adreslerini belirlemek için kullanılan, internet protokol numarası taşıyan adlar" olarak tanımlanmaktadır. İnternet üzerinde aynı alan adı ile bir ismin sadece bir kez kullanılmasına izin verilmektedir. Dolayısıyla alan adı dünyada yalnızca bir kişi tarafından kullanılabilmektedir. 
4)Alan Adı İçeren Bir İşaret Markalaştırılabilir Mi?
Kanunda alan adlarının ayırt edici olması koşuluyla marka tescili yapılmasına bir engel bulunmamaktadır. Alan adları "www", "com", "tr" ve "eu" gibi ibarelerle birlikte veya ibare olmaksızın markalaştırılabilmektedir. Burada markanın "www", "com", "tr" ve "eu" gibi ayırt edici unsurları olmayan unsurları dikkate alınmamalıdır. Markanın tescilinde bütün olarak dikkate alınması gerekmektedir.[1] Örnek vermek gerekirse "elma.com" isimli bir markanın tescil edilmek istendiği düşünülürse burada "elma" ifadesinin ".com" ibaresinden ayrı olarak ayırt edici olup olmadığı incelenecektir. Tescil edilmek istenen markanın hizmet vereceği alanın meyve – sebze satımı, üretimi vb. bir hizmet vermeyecek; tekstil üzerine bir hizmet verecek ise elma ayırt edici olarak kabul edilebilmektedir. Fakat söz konusu hizmetleri verecek ise ayırt edici olmadığından marka tescillenmeyecektir.
5)İnternet Alan Adının Tescil Edilmiş Olması Marka Tescilini Etkiler Mi?
Ülkemizde ve Uluslararası birçok mahkeme kararında bir internet alan adının tescil edilmiş olması onun aynı zamanda marka olarak da tescil edilmesi anlamına gelmeyeceği belirtilmiştir. Tescil edilmek istenen marka başından beri ayırt edici değilse veya kullanım yoluyla ayırt edici hale gelmediyse tescil edilmeyecektir. Avrupa Adalet Divanı (CJEU), 2013 Tarihli "PHOTOS.COM" kararında kapsamlı bir değerlendirme yapmıştır. Söz konusu kararda bir internet alan adının tescil ettirilmesi ile bir markanın tescil ettirilmesinden doğan haklar birbirinden farklıdır. Bir internet adının tescil edilmiş olması onun aynı zamanda marka olarak da tescil edilmesi anlamına gelmemektedir. Bu siteye dünyanın her yerinden ulaşılabilir olması da sonuca etkili değildir çünkü bu durum marka fonksiyonu görmemektedir.[2]
Türkiye'de ise "sahibinden.com+şekil" bir markanın kullanım yoluyla ayırt edici hale geldiğinden tescilinin önlenemeyeceği karar verilmiştir. İlk derece mahkemesinin kararında "sahibinden" ifadesinin vasıf bildirici işaret olduğuna karar verilmiştir. Fakat temyiz incelemesi sonucu verilen kararda "sahibinden" asıl unsurlu internet alan adı altında 1999 yılından beri elektronik ticarette iştigal ettiği bu sebeple ayırt edicilik vasfı bulunduğu belirtilmiştir.[3]
6)Olması Gereken Hukuk Kapsamında Görüşlerimiz Nelerdir?
a) "www", "com", "tr" ve "eu" Gibi İbareler Kelimenin Anlamından Ayrı Ticari Bir Nitelik Kazandırdığından Ayırt Edicilik Unsuru Kazandırmaktadır.
Yukarıda Türkiye'de ve Uluslararası Mahkemelerde, İnternet Alan adları (Domain Name) ile yapılan marka tescilleri ile ilgili içtihatlar kapsamında açıklamalar yapılmıştır. Fakat yukarıda belirtilen uygulamaların kabul edilmesi tarafımızca kabul edilemez niteliktedir. Çünkü "www", "com", "tr" ve "eu" gibi ibarelerle birlikte tescillenmek istenen marka farklı anlamlara gelmektedir. Örnek verilmesi gerekirse örneğin elma kelime olarak ağacın kabuğu parlak, sert, kırmızı, sarı ve yeşil renkte, kokusu hoş, tadı ekşi veya tatlı, dokusu gevrek, ufak çekirdekli meyvesi anlamına gelmektedir. Fakat "elma.com" ise tescillenmek istenen markanın hizmet vereceği internet sitesi anlamına gelmektedir. Bu sebeple "elma" kelimesi ayırt edici bir işaret olarak kabul edilmese bile markaya eklenen ".com" uzantısı ile artık bu markanın ayırt edici nitelik kazandığını kabul etmek gerekmektedir. Bu sebeple yukarıdaki açıklamaların aksine "elma.com" işaretli markanın hizmet vereceği alanın meyve – sebze satımı, üretimi de dahil olmak üzere sosyal medya, alışveriş, müzik sitesi vb. olabileceği görüşündeyiz.
b) Alan Adı (Domain Name) Ve Aynı İsimli Markanın Sahibinin Aynı Kişi Olması Gerekmektedir.
Yukarıdaki İçtihatlarda bir internet adının tescil edilmiş olması onun aynı zamanda marka olarak da tescil edilmesi anlamına gelmemesi gerektiği vurgulanmıştır. Tarafımızca bu görüşü kabul etmek hakkaniyete aykırılık oluşturacaktır. Çünkü İnternet alan adlarının (domain) yalnızca bir defa kullanılmasına izin verilmektedir. Dolayısıyla dünyada farklı mal ve hizmetler için kullanılan aynı marka sahiplerinden sadece biri bu markayı alan adı olarak kullanma hakkına sahip olabilmektedir. Marka isminin internet ortamında sorgulaması yapıldığında karşılaşılacak ilk sitenin markanın hizmet vereceği internet sitesi olması yalnızca bir kişinin kullanabileceği domain tek başına ayırt edici bir özelliği bulunmasını sağlamaktadır. Bu sebeple tek bir kişinin fiiliyatında olan alan adının marka değerinin de tek bir kişide olması hukuka ve hakkaniyete uygunluk sağlamaktadır.
Tüm bu sebeplerle İnternet Alan adları (Domain Name) ile istenilen alanlarda markalaştırılabileceği, "www", "com", "tr" ve "eu" gibi ibarelerin ayırt edicilik unsuru kattığı görüşündeyiz.
c) Alan Adı (Domain Name) ile Markanın Birbirinden Ayrı Olarak Düşünülmemesi Gerekmektedir.
CJEU'nun yukarıda verilen içtihadında her ne kadar bir internet alan adının tescil ettirilmesi ile bir markanın tescil ettirilmesinden doğan haklar birbirinden farklı olduğu söylenmekteyse de alan adları ile ilgili çıkan uyuşmazlıklarda marka hukukunun uygulanabiliyor olması görüşümüzü destekler niteliktedir. Önemle belirtmek gerekir ki; Dünya Fikrî Mülkiyet Örgütü (WIPO) toplantılarında markalar ile alan adları arasında ortak bağlantı var olduğu kabul edilerek marka hukukuna ait hükümlerin alan adları hususunda da uygulanabileceği kabul edilmiştir.[4] Özellikle marka ve alan adı arasında yaşanabilecek hukuki ihtilaflar düşünüldüğünde marka ve alan adı (domain name) mütemmim cüz olarak birlikte düşünülmesi gerekmektedir. Alan adlarının satıma konu olabildiği düşünüldüğünde kişi alan adını sattığında marka hala kendisinde kalmaktadır. Söz konusu bu durum hukuki ihtilaflara yol açacağı ortadadır. Olması gereken hukuk bakımından yapılması gereken kanun koyucu tarafından marka ve adlarının birlikte değerlendirilebileceği düzenlemelerin oluşturulmadır.
7)Tescilin Reddedilmesi Halinde Hangi Hukuki Yollarına Başvurulabilir?
Marka tescil başvurusunun reddedilmesi halinde ret kararının tebliğinden itibaren iki ay içerisinde itiraz edilebilmektedir. İtirazlar Türk Patent ve Marka Kurumu'nun Markalar Dairesi Başkanlığına yapılmaktadır.
8)Yapılan İtiraz YİDK Tarafından Reddolunursa Hangi Hukuki Yollara Başvurulabilir?
Yapılan itiraz ilgili kurumca reddedilmesi halinde YİDK'nin marka tescil başvurusunun reddine dair kararın iptali istemiyle dava açılabilmektedir. Söz konusu davada davacı başvuruyu yapan kişiyken davalı TPE olmaktadır.
9)Dava Zamanaşımı Süresi Nedir?
YİDK'nın kararının iptali istemiyle 2 ay içerisinde dava açılması gerekmektedir.
10)Yetkili ve Görevli Mahkeme Neresidir?
YİDK'nın kararının iptali davasının Ankara'da bulunan Fikri ve Sınai Haklar Hukuk Mahkemelerinde açılması gerekmektedir.
Yukarıdaki kısa açıklamalar aydınlatma amacı taşımakta olup, somut hukuki durumlara çözüm teşkil etmemektedir. Karşılaşacağınız hukuki sorunlar için bir avukata danışmanızı tavsiye ederiz. Kılıç Hukuk Bürosu

---
[1] Uğur ÇOLAK ,"Türk Marka Hukuku",sf.97,2018,İstanbul
[2] Uğur ÇOLAK ,"Türk Marka Hukuku",sf.97,2018,İstanbul – CJEU,C-338/11
[3] Yargıtay 11. HD, 17.12.2012 T, 2011/14067 E, 2012/20952 K.
[4] Zeynep ŞARLAK ,"İnternet Alan Adının(Domain name) Hukuki Niteliği ve Marka Hukuku Üzerindeki Etkisi"
A-INTRODUCTION
The domain of social media is increasing day by day. According to 2019 data[1], 72% (59,36 million) of the population in Turkey (82.4 million) use the Internet; 63% of whom (52 million) are social media users. 93% (44 million) of 52 million social media users are connected to social media via mobile devices. With the introduction of the Internet and social media into our lives, as in all fields, politics also learns its lesson from social media. Everyone, from individuals to legal entities, creates accounts for the Internet and social media and shares their political views and actions in these fields. The point we underline here is the purpose of providing a mutual, interactive environment that goes a step further than sharing.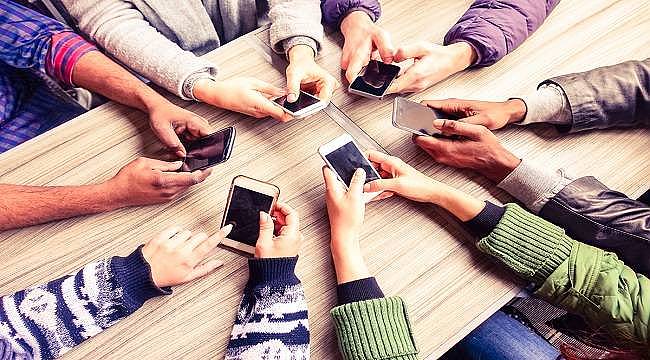 Digitalization is the process of transferring accessible information and existing resources to a digital environment in a way they can be read by a computer. In this process, smartphones are used along with computers. For this reason, the digital environment has become an easily accessible and effective field in our daily lives.
Political Parties and politicians follow technological innovations and adapt them quickly. The Digital Party Project aims to maximize the influence of political parties on social media and to make social media users more effective and powerful. It aims to transform the parties to react in the field of the Internet and social media and to ensure reciprocity with social media users.
The social media deputy system is considered within the scope of the Digital Party Project in order to realize the above-mentioned objectives. It should be emphasized that the said Project is not limited to social media representation only; it is a systematic study. The system is intended to move the Project away from the importance of a single person and to create sustainable and more important domains and new businesses.
Social media deputy system is a project where there will be a representative who will be elected and represent social media users, at the top of system pyramid, to be created on the website and more significantly, on mobile application and as subordinate to this position, there will be social media users who will create system existence and with a solution team that will provide feedback and that will perform the follow-up of the problems and requests of these users.
B-PURPOSE
The Project aims to create a way for political parties to reach the younger generation in social media more quickly and continuously. Accordingly, it is to pave the way for the representation opportunities of social media users and to quickly communicate their problems and bring quick solutions. If this is achieved, when the young generation/social media user has a political goal, they will want to be active in the political parties that have been interactively active in social media and they will try to look for a solution in these fields when they have a problem. It is expected to increase the interest of the younger generation in politics by selecting the social media deputy from among the users. Another objective will be to ensure that social media users are the founding power in determining politics in the system where political parties and social media users are engaged. This opportunity will be acquired by evaluating the personal data of the users who will agree to become members of the digital party system to be established as a political platform by means of surveys, question and answer, etc. With this data, it will be possible to determine political strategy and voters' trends, survey preparations, studies for political advertising ideas and to make an impact in many different fields. In addition, the collective movement of social media users will enable them to act more attentively in political party/parties. (See: consumer power)
C- DIGITAL PARTY
1- SOCIAL MEDIA DEPUTY
Regardless of his/her political opinion, the social media deputy will be a presumptive candidate among the members of the digital party, elected through the members and convey the opinions and criticisms of the users to the Grand National Assembly of Turkey. Social media representation will open an unexpected, unimaginable door among the younger generation. The Digital Party Project aims to provide an opportunity to be a social media deputy (a member of parliament) to its members without paying any cost and needing any acquaintance or influential contact.
Taking into account that there are 60,000 [2] members from Turkey alone in the Liberland country, which was once established over the Internet and undertaking nothing concrete to users, it is important not to underestimate that a social media platform that promises to be a member of parliament will make an application/enroll in numbers that will be close to millions or even exceed this number. Moreover, the majority of these applications is expected to be from the younger generation.
1.1- A minimum of 8 million members can be expected to join the Digital Party System.
The Project will identify the elimination procedures for determining the candidates, as will be explained in detail below. The first of these elimination procedures is designed as a competition. According to the 2009 ISMMMMO Survey[3], it has been determined that 15 out of every 100 adults in Turkey want to be competitors on television. Based on this data, it can be calculated that at least8.904.000 people out of a total of 59,36 million internet users can participate in the Project for 2019.[4]
1.2- the Political Opinion of the Social Media Deputy is insignificant
The number of people/members that can reach nine million is higher than the number of people/followers that many political parties have in social media. This information indicates that the Project may appeal to different political views and identities. The Project signifies that not considering the political opinion to become a member of parliament could allow people with different identities and opinions to use the application. The likelihood that the social media deputy is chosen from different political views will provide an opportunity for data analysis of different political identities and opinions. In this way, it will be possible to determine different political strategies for different identities and opinions.
1.3- Election Methods for a Presumptive Candidate of Social Media Deputy
In order to be a social media deputy, alternative election procedures have been determined below. The Project is designed on the applications of existing political parties to this Project. The options are also evaluated in this context. These are;
a- Determination of the Presumptive Candidates and Candidate by the Users: It is the election method supported by the Project and based on the Project. The said Study and statistical data are calculated, assuming that this method is chosen. This choice makes the user feel most free, has no influence on his/her will and the Internet is the most appropriate approach to the spirit of social media. The social media user has the right to vote and to stand as a candidate.
b- Determination of Social Media Deputy by a Political Party: In this method, the social media deputy is elected by a Political Party. If this method is selected, it is considered that the Project will not have a high level of impact.
c- Determination of the Presumptive Candidates by the Political Parties, the Candidate by the Users: 20 persons nominated as a candidate are designated by the Political Party. Twenty nominated candidates are elected by the votes of social media users. In the said approach, the social media user is only entitled to choose and not entitled to be elected.
d- Determination of a Candidate by the Application and a Candidate by the Political Party: It aims to establish a balance between the users who will be members of the application and the Political Party. There are two social media deputies on this election method. The first of these is determined by social media users as in the first election method. The second one is the social media deputy to be determined by the Political Party itself. If the election method is chosen, the visible face of the Social Media Deputy System is these two members of parliament.
1.4- Being a Social Media Deputy Presumptive Candidate
In order for users to be presumptive candidate through the digital party project, they are required to sign up via the digital party website. (The two and third election methods specified in 1.3 will be an exception to this.) In order to be presumptivecandidate, it will be sufficient for the users to reach the age of 18 and to have their real information in the system.
The person who is eligible to become a member of parliament as a result of the voting and elimination to be specified in detail below must meet the requirements set out under the Law. The candidate for social media deputy will apply to the Political Party with the necessary documents if he/she fulfills the conditions specified in the Law. The candidate to be elected shall be the first candidate in one of the provincial regions where the Political Party has nominated at least four deputies in each election in order not to cause loss of rights in the provinces where it has nominated fewer deputies.
1.5- One Time Election of Social Media Deputy and Gender Awareness
The social media deputy will be elected once for each term. However, there is no obstacle for the outgoing social media deputy to become a presumptive candidate for parliament in other methods.
In order to create awareness and impact, it is considered that the social media deputy should be selected based on different gender for each term. However, 2019 social media statistics and election constraints are likely to cause users to cool down from the system. However, it is important to bring gender equality to the political field.
1.6- Social Media Deputy Candidate Elimination System
The criteria for the nomination of the social media candidate will be specified via the digital party website. The coordination center will establish objective elimination procedures for candidate eligibility requirements and nomination processes. The selection procedures that will attract attention in social media such as mental puzzles, book reading exams, analytical and psychological tests, games, projects etc. and/or intelligence, sports etc. will be determined.
The presumptive candidate will have to record themselves with a camera in order to prove that there is no one around them and they do not violate the rules of integrity when they try to perform the stages. The presumptive candidate who has passed the stages will move to the next level. The presumptive candidate who has passed the stages will finally be subjected to a psychological test to be broadcast live on the website. This application is one of the methods used by Turkish Airlines when determining pilot candidates. In this context, they work/have worked with Istanbul University.[5] The digital party project designs the use of the psychological test as the final stage in determining social media deputy candidates. These processes will be audited through the notary public.
The presumptive candidate who has passed the stages will be identified as a social media candidate without further investigation and approval. However, if the number of candidates in question is more than 40, 20 prime and 20 substitute candidates will be determined by lot method among the persons who have passed the stages, respectively. After the designation of 40 candidates, it will be compulsory for the social media presumptive deputy candidates to upload the video recordings showing the stages they have passed. Otherwise, the related candidate will not be eligible to be a social media deputy candidate.
The person (s) eligible to be a social media deputy candidate (s) will be elected through the digital party website among the site members. The person who receives the most votes among them will be announced as the 1st rank MP candidate from the region designated as the Social Media Deputy Candidate of a political party.
Presenting the candidacy elimination to the user by recording with simple, known instruments will provide transparency and remarkable interest in the system. Most importantly, every user's dream of becoming a member of parliament will become a status that they can perform/earn with their own skills and intelligence without the need for "bribery" in the eyes of the users, without the need for money and circle of people. For this reason, it is thought that there will be extraordinary participation.
1.7- Potential Problems/Situations in the Person Elected as a Social Media Deputy
The only unpredictable result of the system is who the social media deputy is, from what political structure he/she comes from and what kind of personality he/she will have. A second possibility is that social media deputy screening systems have been equalized by malicious people.
Within the scope of the Project, it is not aimed for the social media deputy to be a member of a political party and/or a political party sympathizer. The Project aims to make it a prerequisite that the person who will be nominated as a candidate solely depends on Atatürk's principles and revolutions. In this context, what kind of personality and characteristics of social media deputy to be elected will not be examined. The social media deputy is the visible face of the system. The system aims at tremendous results that cannot be limited to social media representation only. The contradictions that the social media deputy can experience with the political identity of the political parties will be one of the symbols of that party/parties' belief in democracy and its liberal insights within the party.
In the second case, it is possible to draw conclusions in favour of political parties. Anyone who will approach the system with malicious intent may be treated through political party disciplinary bodies. However, avoiding the disciplinary procedures in terms of the spirit of the Project will increase the involvement and interest of the younger generation in politics and political parties. The continuation of the Project will be an example of political parties' belief in young people, even if individuals and organizations have taken over the deputy of social media in the malicious act. Moreover, individuals and organizations who have taken over the system in malicious ways may be criticized by social media for "making a good thing worse, stealing young people's dreams for not being representatives".
In the two cases mentioned above, it will have implemented a project that shows that political party (s) value 52 million social media users and that they are valuable and will continue to carry on despite the malicious actions and will strengthen its credibility in the eyes of the public. Equally, the younger generation will have a say in politics without restriction, freely and with involvement, and will have the dynamism to guide politics.
2-SOLUTION TEAM
It is one of the most important parts of the Project because it is the team that will ensure the operation of the system and the first contact with the users. Political sub-ground and human relations are expected to be carried out in a sincere and professional framework. At this stage, a professional team should be prepared primarily. A volunteer team is expected to be formed to train the professional team.
The solution team will be responsible for solving and tracking users' problems. In this context, it is aimed to contact the relevant institutions and organizations for the user problem reaching the solution team, to follow the solution of the problem and to quickly transfer the result to the user.
3- USERS OF THE DIGITAL PLATFORM SITE – SOCIAL MEDIA USERS
Within the scope of 2019 Social Media Statistics, the significant majority of social media users are between the ages of 18 and 44. It is observed that the highest age range is 25-34. The audience targeted by the Digital Party Project is the three ranges with the highest statistical rate. [6]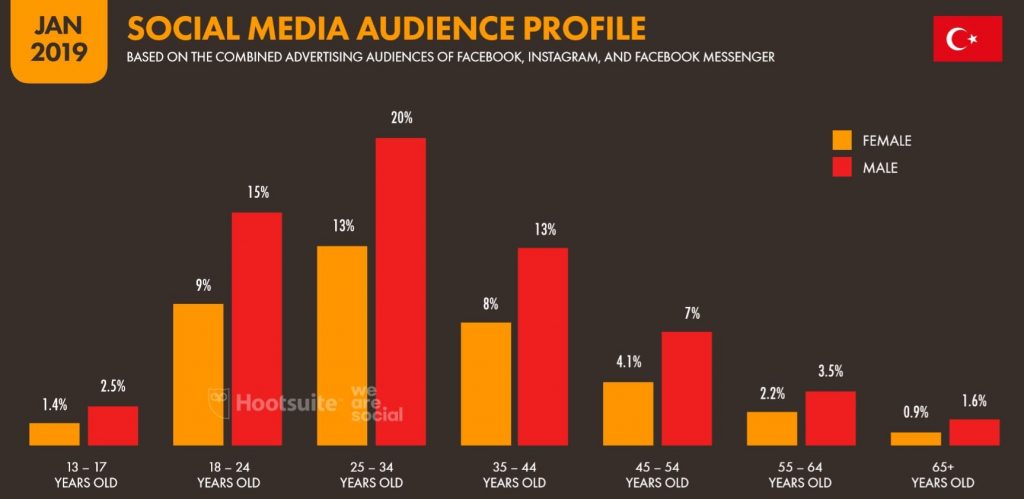 It is aimed that the audience expected to become a member of the digital party website will communicate their problems and recommendations on the site, participate in surveys and studies, and support the projects. In order to meet the expectations of the site, motivating factors are expected to meet the representation and handling of problems. Secondly, it is important to carry out activities that will provide the interest and action of the users with the R&D team of the coordination center.
3.1- Political Opinion in Membership System
As detailed in the Political Opinion 4.2 in the Membership System, questionnaires and questions will be organized to determine the political opinions of the users who consent to the examination of their personal data. The aim here is to ensure that political and social planning can be made against the answers (positive, negative, abstention vote) to the questions asked to the users whose political views are determined. For this reason, when determining the social media deputy, being away from the expectation of political opinion will allow the individual to become a member of the website and use balanced data from each political opinion.
4- COORDINATION CENTER
The coordination center is designed as the only structure capable of autonomous movement in order to ensure the existence and development of the project/system. It is aimed to prepare the procedures such as topic titles, election and elimination systems, project preparation, R&D works to be determined on the website and to provide the highest mutual benefit from the system. If these studies are not used effectively, the system may not be respected by the social media user. Therefore, the system must operate regularly and the problem-solving capability must be sustainable.
In addition, the coordination center will be able to access the data of the users through the website in order to determine the data analysis and political trends and will prepare political action plans by evaluating them with effective experts. Recently, criticism and violations about the processing of data have been mentioned. Of these, the most widespread one is Cambridge Analytica, which made its name known in the Brexit and Trump Election Campaign. ("CA")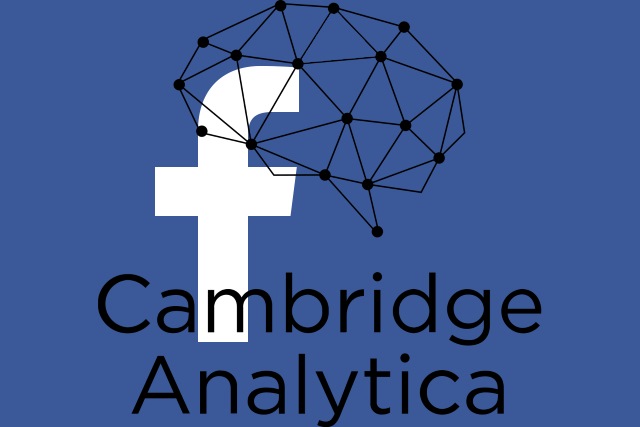 4.1- What did Cambridge Analytica do?
CA used its data in a manner that would be in favour of its customers in the US Presidential Election 2016 and Brexit without permission from the users and in violation of ethical values. According to The Great Hack documentation[7]; CA used personality tests within Facebook for Trump's campaign. CA did not target every American equally; it directed most of its resources towards those they thought might change their minds. And it calls them "persuadable voters" CA focused especially on persuadable voters living in the states where it was not clear which party would win. The creative team of CA created content with personalized blogs, articles, videos, and ads that would trigger these people. Afterwards, they analyzed the effects of their studies on the users by examining the data they obtained using the same methods.
4.2-Data Analysis with User Consent
The critique brought to the Study conducted by CA is that the Study is unethical and carried out without the permission of the user as mentioned above. If the user is sufficiently informed about the Study in question and given the opportunity to choose, we believe that the above-mentioned Study can be used on a legal basis. The said study/data analysis has been carried out physically by survey companies for many years. Therefore, we believe that the Digital Party Project will have extraordinary efficiency in this respect if users are informed for what purpose their data will be used and an environment is provided in which more accurate and effective political studies will be designed without being misled and users who do not allow it are given the right to use the digital party website freely. In case the data is processed with ethical values and consent from the user, we believe that it will be the most important platform for data analysis in Turkey if the number of users on the website is at the target level. In this way, user data that will reach millions for studies such as political advertisements, determination of party trends, survey studies, etc. will provide a unique opportunity.
D-IMPLEMENTATION
1- WEBSITE AND MOBILE APPLICATION
As mentioned above, the center of the Project will be the website and, more importantly, the mobile application. This site and application will aim to provide an environment where people can vote for the social media deputy and see and monitor the results of the votes. The Project is available to create representatives in different categories such as politics, humour, art. However, since the Project is politically oriented, a single field is considered so that other fields do not create confusion in the perception or austerity of the member.
2-VOTING AND APPLICATION
In the Project, everything that the system allows is designed to be voted. The more members are given the opportunity, the stronger the communication with the Project is assumed to be. The most important issue will be the prompt application and publication of the results of the vote. Application of the voted actions and decisions will be one of the most important expectations of the credibility of the site. The application will be the first step of targeted successes. For this reason, it is aimed that the application area will be an execution, art and technical work field alone. The best application is needed to prepared and served to users by working meticulously on it. The website of the studies to be prepared will be shared simultaneously on YouTube, Facebook and Instagram so that all attention will be attracted.
E-CONCLUSION
The digital party project not only aims to create a new political area but also realize a system that the public will rely on as well. Politics has stayed away from new generations and the fields where it is and has lost its influence. With this Project, it is aimed that the public will have a direct impact on the decision-making mechanism and the future strategies of the Party/s will be more effective. If the Project is successful, different results can be obtained in many fields. The future is at the edge of science.
Legal Adviser Onur Kılıç
---
All rights of the Study belong to Onur KILIÇ. All legal remedies including pecuniary/non-pecuniary damages for any unauthorized use are reserved. The Study is only an idea and is not related to any organization, individual and/or institution. The Study can be used by specifying/referencing the author and article link.
---
[1]https://dijilopedi.com/2019-turkiye-internet-kullanim-ve-sosyal-medya-istatistikleri/
[2]https://www.haberturk.com/video/haber/izle/liberlandin-cumhurbaskani-haberturke-konustu-turkiyeden-60-bin-basvuru-var/526828
[3]http://archive.ismmmo.org.tr/docs/basin/2009/bulten/23012009_HAYALLERYARISIYOR.pdf
[4]https://www.slideshare.net/DataReportal/digital-2019-turkey-january-2019-v01
[5]https://www.istanbul.edu.tr/tr/haber/istanbul-universitesi-ve-thy-arasinda-yeni-is-birligi-4D00340034006F006300780045005F0031006F0041003100
[6]https://datareportal.com/reports/digital-2019-turkey?rq=turkey S.36.
[7]https://www.netflix.com/title/80117542